Monday, June 4, 2018 6:34:28 PM America/Los_Angeles
The AKK FX2 vtx is a $20 30.5mm stackable VTX made by AKK for 5.8GHz FPV. Key specs and my take on these are:
Smart Audio (choose channel/band/output power in Betaflight OSD)

User selectable 25mW/ 200mW/ 500mW/ 800mW (suitable for low race power up to ludicrous 800mW output)

7-24 input (2-5s, possible 6s with a capacitor)

Microphone (Your DVR will have sound from the quad)

Digit LED and push button (You can adjust power and band/channel easily without betaflight OSD)
Read More
Wednesday, May 23, 2018 7:11:06 PM America/Los_Angeles
Video Transmitters from AKK
AKK has some neat video transmitters out that are suitable for racing drones as well as airplanes and they feature an OSD and selectable power output. There are two versions available, the X2 and the FX2. The X2 is the traditional format suitable for airplanes and drones. The FX2 has 30.5mm mounting holes for placing it on your stack in a racing drone.
Both units feature Smart Audio support, OSD, microphones, a button to set frequency and power output. They have selectable power outputs of 25,200,600 and 1200mW. They can take an input voltage of 7-26V and there is a 5V out for powering your camera. Cost is around $26 and you can select your MMCX connector adapter to be SMA or RP-SMA.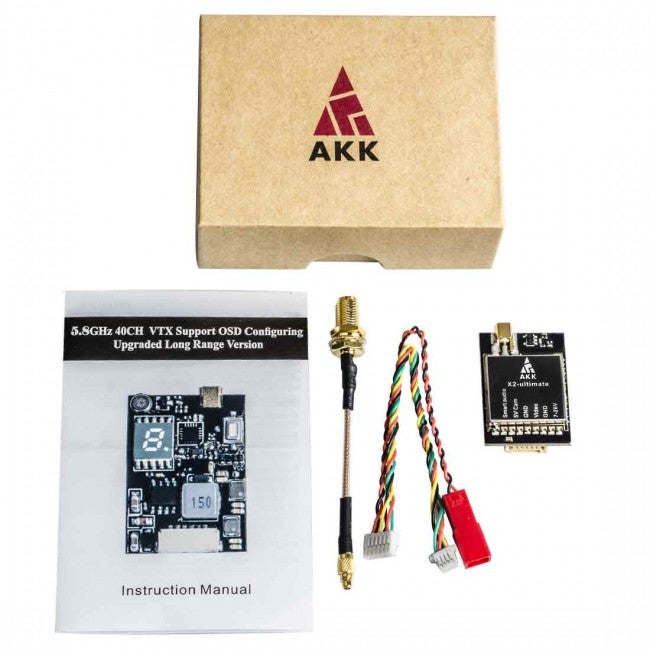 AKK X2 Contents
AKK FX2 Contents
Monday, January 15, 2018 12:42:00 AM America/Los_Angeles
There are many FPF VTX systems on the market these days and AKK keeps making new products almost every two weeks. This time, I have tested their new FX2 40CH switchable VTX.
Read More
Tuesday, November 21, 2017 11:19:00 PM America/Los_Angeles
l y a quelques temps déjà, AKK nous a envoyé quelques vTx à tester. Aujourd'hui je vais prendre une peu de temps pour vous parler du modèle AKK FX2. Il s'agit d'un émetteur vidéo stackable (au format 30 x 30 mm) que j'ai installé dans mon ImpulseRC Alien 5′ pour remplacer mon bon vieux FX800T. Ce dernier fonctionne encore très bien, mais il émet « moins fort » et n'est surtout pas contrôlable via le contrôleur de vol.
Read More
Sunday, November 5, 2017 12:50:00 AM America/Los_Angeles
In this review we will take a look at some new video transmitters from AKK, which are affordable VTX's that come with SmartAudio.
Read More