The Best Video Transmitter(VTX) for FPV Drone Plane by AKK
Saturday, July 18, 2020 2:15:07 AM America/Los_Angeles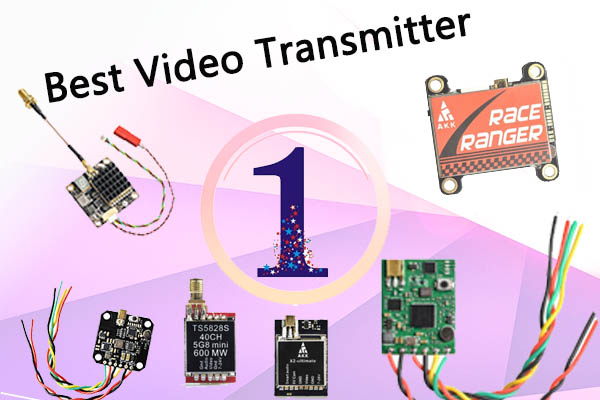 Video transmitters (VTX) play a significant role in FPV, which are used to transmit video from FPV camera to FPV goggles or ground station. When it comes to which 5.8GHz video transmitter is the best video transmitter for FPV drone made by AKK, we can't answer exactly which one is since every FPV VTX is being carefully researched and developed. But here we still list the best 5.8Ghz VTX for drone planes according to reviews of FPV players, which is full-filled with the user's real experience and accurate features of FPV VTX.
Before we select some FPV VTXs as the best one, it is necessary to learn the features of AKK FPV VTXs and you can refer to this passage: How to Choose Video Transmitters (VTX) for your Drone Plane
Let's cover the topic directly and we list the best VTX as follow:
·2000mW VTX–Most expensive and power FPV VTX
·X2-ultimate–Best long range VTX !?
·Race VTX–Best budget VTX but good enough
·Fx3 Ultimate–Best sell FPV VTX
·Race Range FPV VTX–Best design and stable FPV VTX

·2000mW VTX–Most expensive and power VTX
2000mW VTX AKK Fx2 Dominiator is the most expensive and power VTX up to now, it also comes with nearly all modern features:
Support SmartAudio, so you can change channel and power via Betaflight
Built-in Microphone, allow you to hear the motors and learn more about the flight situation
30.5×30.5mm mounting holes, so you can install it directly on your FC stack
However, all these features can't cover the halo of 2000 mW power. If you never try 2000mW VTX, you can not really understand the super long range(10km+) , the better sky horizon and the quiet different FPV passion. Meanwhile, the 2000mW output standard for more serious heating, so pls don't put it so long on the bench in a high output or it will burn out!

·Best long range VTX – X2-ultimate FPV VTX
The max long range of X2-ultimate FPV VTX was tested over 20km by ArxangelRC, an FPV You Tuber with 15K+ subscribers. This flight also make X2-ultimate became the best long range VTX. Actually, the power is higher, the better range it will be, so there are many better range VTXs than the X2-ultimate, like 2000mW VTX and Race Ranger. But sometimes the range does not only depend on FPV VTX but also the environment! The X2-Ultimate is the best long range VTX in 2019.
Features:
The 1200mW FPV VTX. Super high power output, the 1000mW output beats absolutely all the output of 5.8Ghz video transmitter in the market.
New VTX appearance design. This FPV VTX is nearly fully covered metal shell one side, not only looks cool but also protect the VTX.
Smaller and lighter. The AKK X2-ultimate VTX has tons of great features found in the larger FX2-ultimate VTX but in a much smaller and lighter form factor.

·AKK Race FPV VTX–Best budget VTX but good enough
Though the AKK Race FPV VTX is not the cheapest VTX, it still the best budget VTX. If you are a new FPV player, this VTX may be the best one. It only takes $9.9, cheaper than the most part price of VTX. Most importantly, it supports Smart audio. You may not find a VTX support Betalgiht with a price lower than $10.
Other Features:
Little power drop. When using other VTXs, it is common that the power level drops quickly, but this VTX is steady.
It beats many VTXs in this part. With the LC filter. LC filter is one of the most basic filters in electronics, which is widely used by FPV hobbyists to suppress noise in power created by ESC and motors.

·Fx3 Ultimate–Best sell AKK FPV VTX
Though you may think the best sell FPV VTX should be other VTXs like the 2000mW VTX or X2-Ultimate VTX, Fx3 Ultimate is the true best sell VTX. It released early in June 2018 so it is the pioneer VTX supporting Betaflight. There are also many other features that make it best sell:
Ideal power output range from 25mW to 600mW, it is totally legal in nearly all the countries
Suitable Price only takes $18, not too expensive compare to TBS VTX or Rush VTX, acceptable by customer
20×20mm mounting holes, it is a mini VTX and can mount in your FC stack directly.
MMCX+UFL connector, so you can choose different connector according to your preference
So, is it a perfect VTX? Oh, we have to say it is not a perfect one. It only has an input voltage from 7V to 24V, which not allow you to use a 6S battery.

·AKK Race Range FPV VTX–Best design and stable FPV VTX
Looking for a stable and cool VTX for your drone? There is no better choice than the Race Range FPV VTX. The entirely new red appearance makes it a star among the VTX. The full covered metal shell protects it being broken even in an accidental fall.
Features:
Wide voltage input. 7-28V input.The 2-6s battery is available.
Long range VTX.
Smart audio support.
One button frequency and power setup.
Built-in Mic.
If you have any other special point views toward the best video transmitter made by AKK, pls contact us and we will add it to the theme.
Posted in
X2
By
akkasan lu