Details
Details
AKK Race Ranger FPV VTX makes a significant improvement in comparison with all other AKK VTXs. It has far better cover protection, longer transmission distance and clearer indicator, which makes it a great 5.8Ghz Video Transmitter, bringing entirely new FPV experience for you!
Full cover protection. This AKK FPV VTX is full covered metal shell, so it may not be broken even in an accidental fall!
Clearer indicator. 8 blue led for CH,5 green led for the band and 3 red led for power. The new smart indicator design of this FPV VTX caters to visual needs and also the actual operation.
Longe range VTX. The power up to 1600mW(International Version) and the stable signal transmission enable it to create a new flying range record of VTX.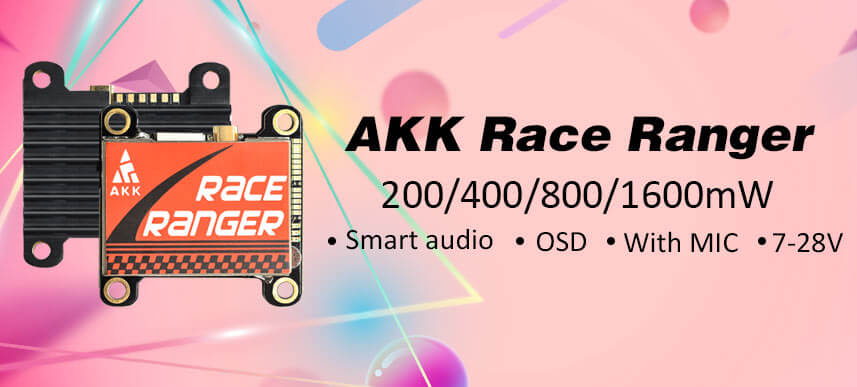 Key features:
Smart audio support. This FPV VTX supports SmartAudio, so you can change VTX settings in Betaflight OSD, such as channels and output.

One button frequency and power setup. If you don't like smart audio, you still can change of channel, band, and power by only one button on this FPV VTX.
Built-in Mic. It is a good thing about FPV VTX with a built-in microphone. It allows you to hear your quad though it flies too far.
Wide voltage input. 7-28V input. 2-6s battery is available.
5V output. This FPV VTX provides 5V output to your FPV camera.
200mW/400mW/800mW/1600mW power switchable.
Find AKK VTX Tables(International Version), please click here.
Learn about the Best AKK Video Transmitter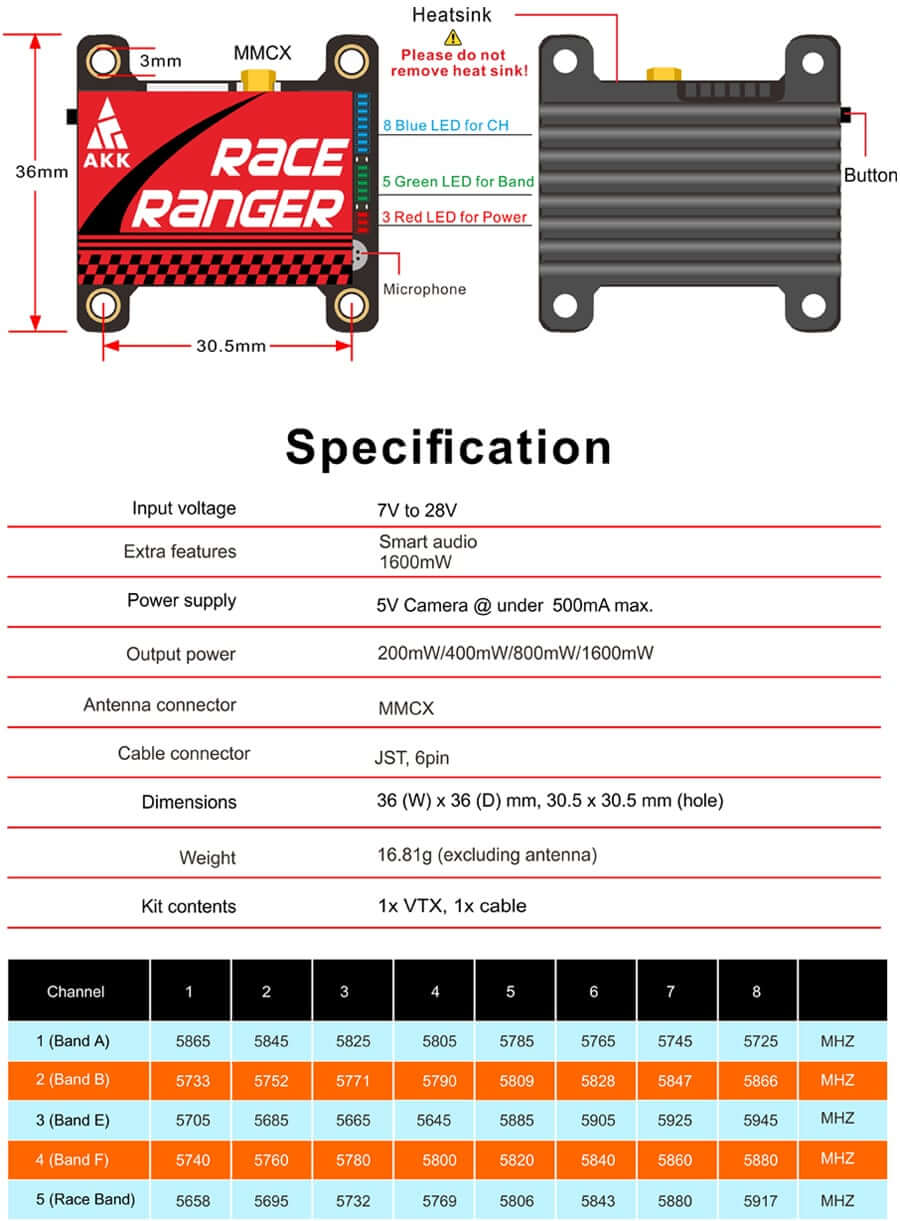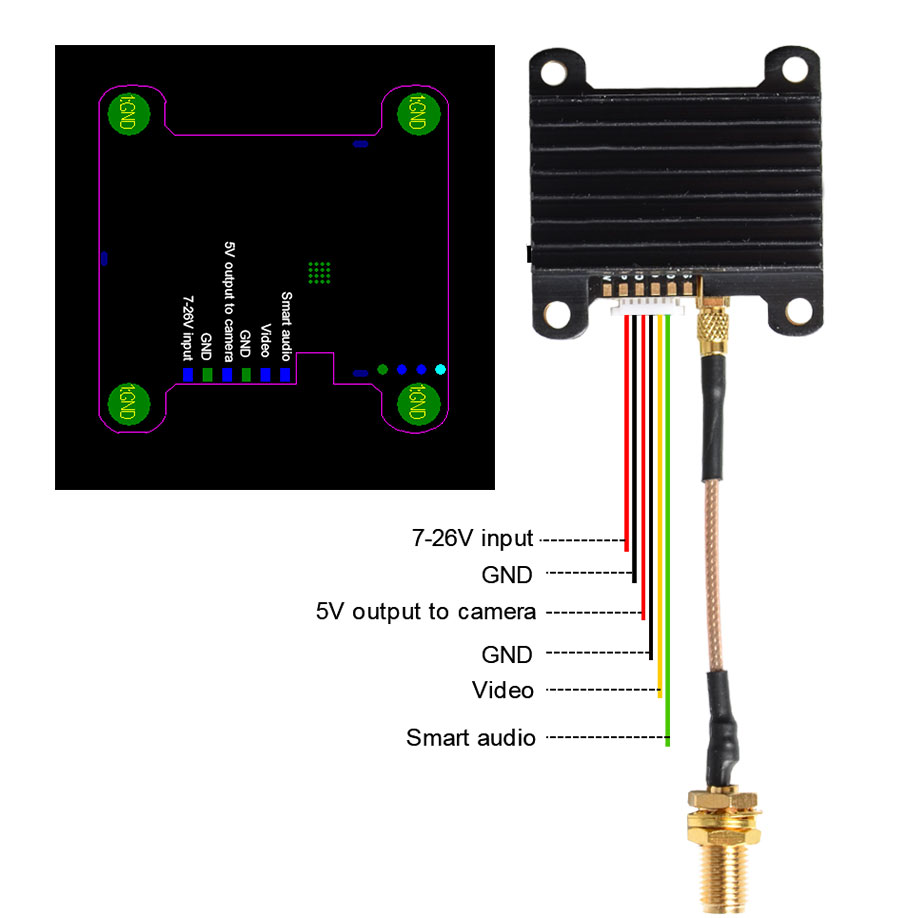 Reviews
Customer Reviews (14)
Affordable quality

Review by

Stephen Gee

Has been a solid vtx so far mostly run on 400mw but sometimes I use full 1.6w for long distance. Paying attention to stuff like that matters and it seems even the sub $50 stuff is getting better. (Posted on 11/6/2020)

Solid

Review by

Carl Jr Conde

Fits perfect, works perfectly, easy to operate (Posted on 10/10/2020)

Great Race Ranger VTX

Review by

Daire Davis

Tough. The power is nice. Gets serious range and penetration. Will be buying more. Heating a bit of a pain but worth the effort. (Posted on 9/28/2020)

Polecam

Review by

Tomek

Kupiłem w ciemno, nie żałuję. Jest ciężki, 16g, ale ma porządne chłodzenie. (Posted on 9/9/2020)

As good as TBS

Review by

John Anderson

Excellent direct competitor with TBS, and a damn good one. Race ranger is solid from what Ivr used so far. They are nearly the same but huge difference in price. It's going in my next build. Thumbs up.
(Posted on 8/18/2020)

Cool

Review by

Lewis

The race ranger is my favorite fpv vtx and love the cool look.
(Posted on 7/3/2020)

Great range

Review by

Brad Soper

Great range but the noise is bad. Smart audio does work. Anything goes well. (Posted on 6/15/2020)

Really good but

Review by

Matt Villa

Have to say it is a nice vtx, super solid, strong signal, clear video...but really hot, hot, hot!!! Especially turn to 1600mW (Posted on 6/13/2020)

Great Video Transmitter

Review by

Richard Jones

This AKK race ranger vtx is great quality for the money. It seems to be excellent signal and clean video where I fly especially compared to other transmitters I've used. This has become my go-to vtx! (Posted on 6/6/2020)

melhor vtx

Review by

Vitor Alves

um dos melhores vtx do mercado atualmente. (Posted on 5/26/2020)

good quality

Review by

wendell watson

very good quality vtx! working perfectly (Posted on 5/25/2020)

Great vtx

Review by

Chad Loughry

Very powerful vtx and the range is very good. Like it. (Posted on 4/10/2020)

Love it!

Review by

Jones

The race ranger vtx is the only vtx's I use, the video signal is the best (Posted on 3/26/2020)

Great quality

Review by

John Vanst

The best 1600mw VTX on the planet. Most importantly, it puts out its rated power. Awesomeeeee (Posted on 2/28/2020)
You may also be interested in the following product(s)