Details
Details
Cheap, but not Simple. The Race VTX is
a very nice FPV VTX.
You may not find such an FPV VTX supporting smart audio, pit mode, led display etc in the market. And it only takes $9.99! Let's learn more about this FPV VTX
Small and light VTX. This VTX is 20×25×3.5mm with a weight of 3.5g.
Little power drop. When using other VTXs, it is common that the power level drops quickly, but this VTX is steady. It beats many VTXs in this part!
With the LC filter. LC filter is one of the most basic filters in electronics, which is widely used by FPV hobbyists to suppress noise in power created by ESC and motors.
Key features
Support Smart audio. You can change the VTX settings in Betaflight OSD, such as channels and output.
Support Pit mode. The pit mode reduces interference possible, which allows you to start VTX at any time, even when the race has started.
LED display. The AKK Race VTX has 4 indicators for band, channel, and power. It is easy to use with obvious indicators.
One button setup channel/band/power.
25mW/200mW/ power switchable.
5V input with 5V output.
Race VTX Table, please click here.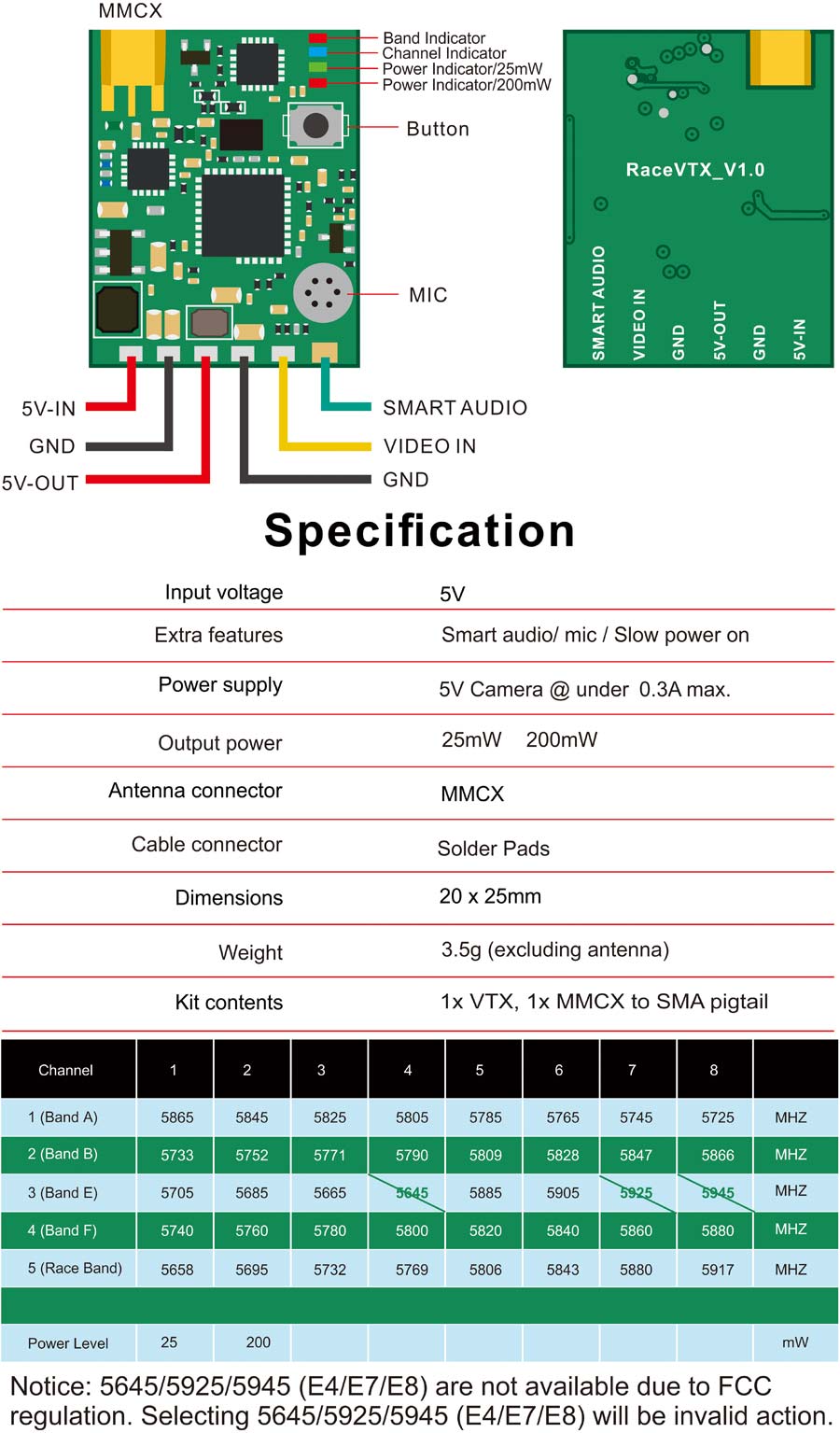 Reviews
Customer Reviews (5)
FPV VTX for basic need

Review by

Ricardo Sancho

Great Start for an FPV beginner. No more than 10USD and support Bateflight.
(Posted on 8/12/2020)

This vtx is amazing for the price.

Review by

Clayton Cruz

This vtx is amazing for the price.
(Posted on 5/25/2020)

Solid VTX at a good price

Review by

Daniel Francis

Cheap but reliable! (Posted on 4/28/2020)

Great VTX

Review by

Darren Satsky

Have to say, it is a great FPV VTX at a very attractive price. It works as good as the unify race but costs only half of unify race.
(Posted on 3/25/2020)

Good low-cost VTX

Review by

Melvin Bass

Simple, super lightweight. Anything else? Oh yeah, this VTX is also pretty cheap and only takes $9!!! It's seriously worth trying it out at that price. Put it on my 4inch quadcopter. (Posted on 3/24/2020)
You may also be interested in the following product(s)