Details
Details
The AKK FX2-ultimate-mini VTX(International Version) is a rare FPV VTX currently on the market, which adapted smart audio, Betaflight and pit mode. It comes with microphone, led display and one easy-control button, very useful equipment in a racing game. The 1200mW power output makes it an actual 5.8Ghz long range VTX whose transmission distance can even arrive 10Km in the open space without any interference.
Key features:
Support Smart audio
25mW/200mW/600mW/1200mW power switchable
One button frequency and power setup
OSD configuration using smart audio
7-26V input with 5V/12V output for camera
With MIC
For AKK VTX Table, please click here

Notice:
VTX has 5V&12V output to camera. Please solder 5V camera to
5V-out solder pad, or solder 12V camera to 12V-out solder pad.
Never solder 5V camera to 12V-out solder pad or solder 12V camera to
5V-out solder pad, which may damage camera.
Never solder 5V-out and 12V-out at the same time.
The selections in yellow are not available due to FCC regulation.
The use and operation of this product requires an amateur radio license.
Please apply license before purchasing and using this product.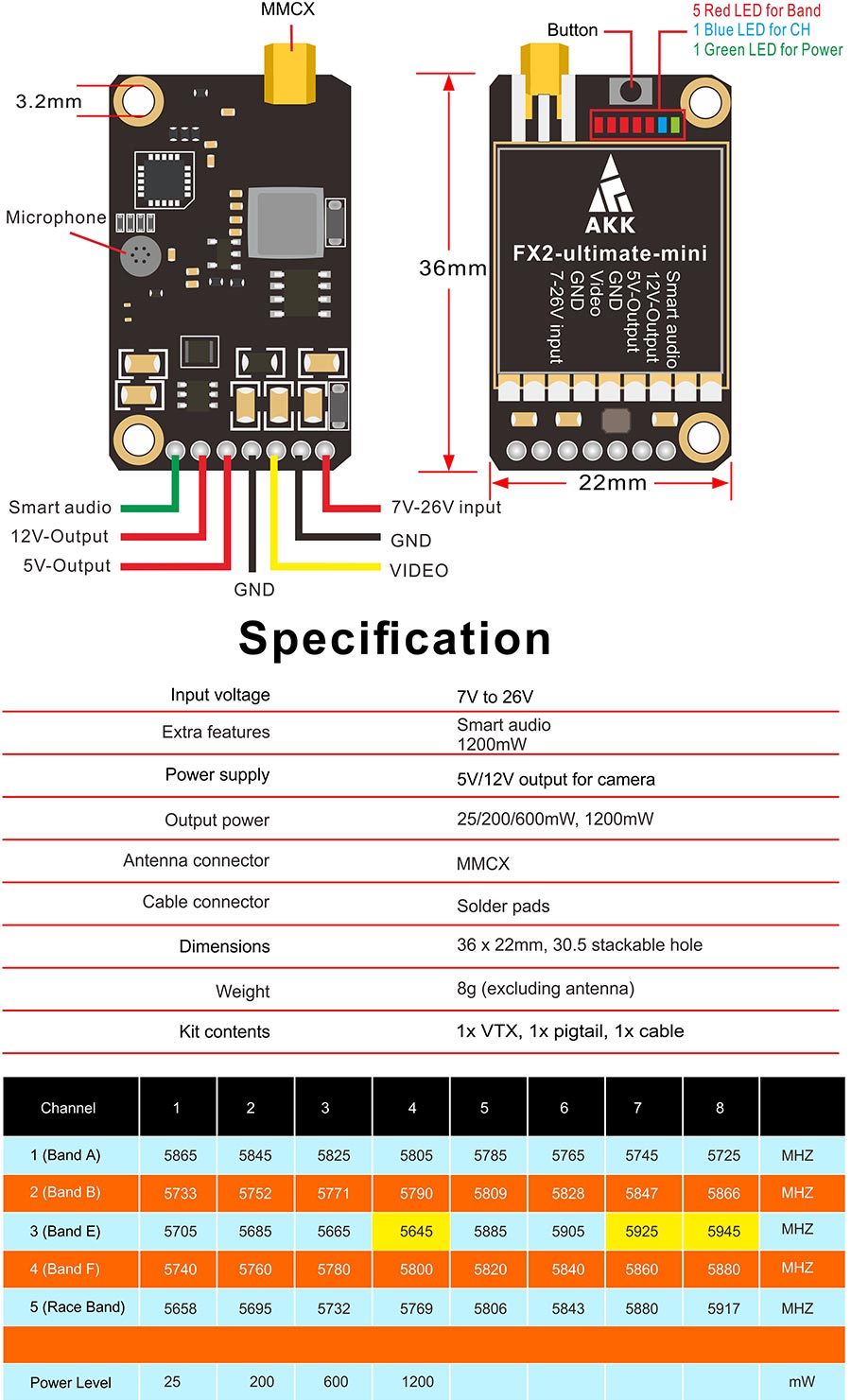 Reviews
Customer Reviews (4)
Good fpv vtx

Review by

Jeff Anctil

Been using akk vtx for about 6 months now, overall the best vtxes I've ever tried! (Posted on 8/20/2020)

Great

Review by

Morad Wells

I have this vtx on 2 of my quads, id put it on a 3rd
(Posted on 6/13/2020)

quality vtx

Review by

Zeke Hiatt

very fast delivery. awesome vtx, very solid. don't get to hot even at 600mWv (Posted on 5/28/2020)

The furthest range vtx

Review by

Martin Evans

Started to learn FPV in 2019 and it's the furthest I've been. Cant wait to get up some mountains (Posted on 5/22/2020)