Details
Details
2000mW VTX AKK FX2-Dominator Long Range FPV VTX is one of the most advanced and powerful 5.8GHz Video Transmitter available today. Super high output power, ultimate cool design, stable long range transmission, and other modern VTX features make it deserve the crown of FPV VTX!
2000mW VTX. Super high output power brings pilots the entirely new FPV passion experience for long range.
Ultimate Cooling Design. The 2000mW VTX features 2 heat sinks, cooling down the temperature and also protecting the VTX in huge crash.
Long Range FPV VTX. The stable transmission and high output power enable it to create a new long range record.
Clear LED display. LED Panel gives you a visual indication for channel, band and power.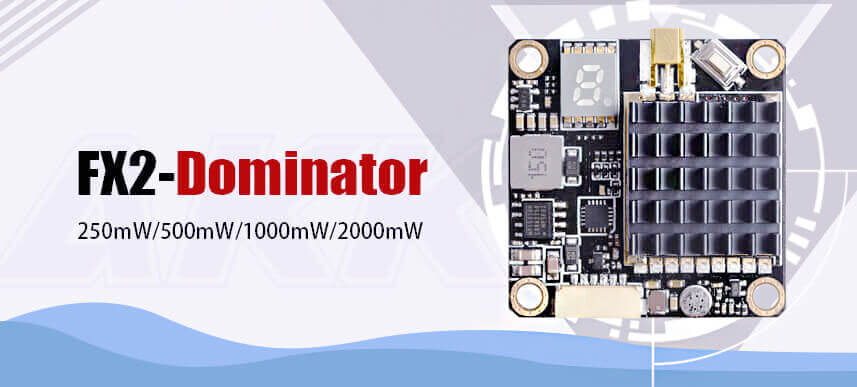 Key features:
Smart audio support. This 2000mW VTX supports SmartAudio, allowing you to remotely change settings on the VTX like power output, frequency and more via Betaflight OSD controls.
One button frequency and power setup. Instead of using smart audio, you can change of channel, band, and power by only one button on this 2000mW VTX.
Built-in Mic. It is a good thing about FPV VTX with a built-in microphone. You can listen to your motors while you fly, no matter how far away you fly.
MMCX connector. The MMCX connector is durable and easy to use. Rated for 100s of mating cycles and provides easy and quick antenna changes. No more ripped-off UFL connectors.
Stack Dimensions: M3, 30.5x30.5mm. Easy to install.
Wide voltage input. 7-26V input. The 2-6s battery is available.
5V output. This FPV VTX provides 5V output to your FPV camera.
250mW/500mW/1000mW/2000mW power switchable.
For 2000mW VTX Table, please click here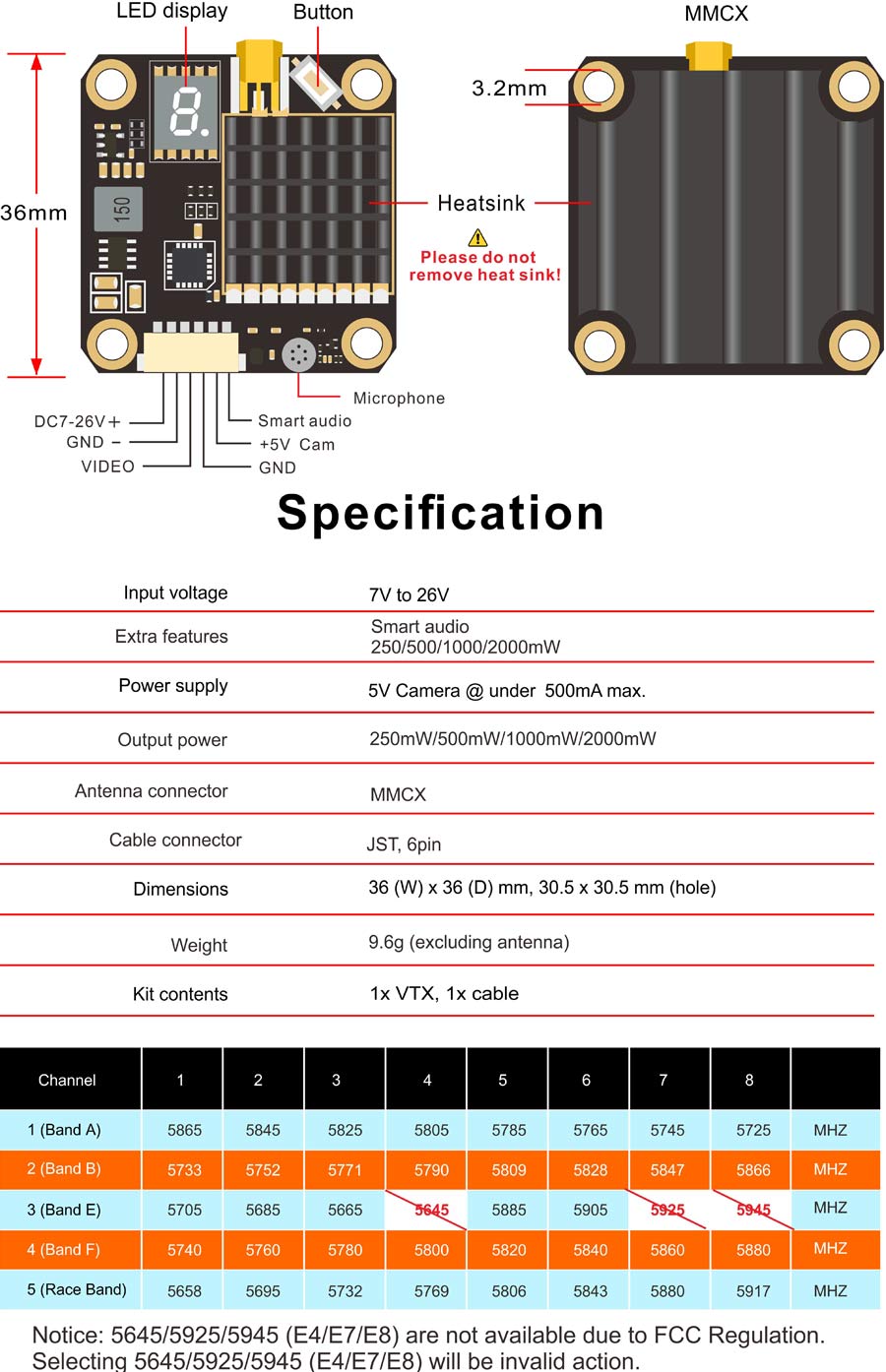 Reviews
Customer Reviews (16)
Quality vtx

Review by

Luca Wilson

Perfect. Way worth it. (Posted on 10/10/2020)

Awesome quality, works perfect!

Review by

Kenny

Worked incredibly on my fixed wing. Strong signal and great range. (Posted on 9/28/2020)

Great 2000mW vtx

Review by

Serge Guay

Most expensive vtx I've bought, but very much worth it. Low noise and good performing. (Posted on 9/17/2020)

Great video transmitter for long range fpv

Review by

Steve Brown

In my opinion, this VTX is very solid and has great noise filtering. I get a clean video signal. Most important, it is a true 2000mW VTX.LOL.
(Posted on 8/19/2020)

Great video transmitter 10km

Review by

Carl Samas

The range is really good and I even can't believe that is 5.8G video transmitter! This is a true long range video transmitter! (Posted on 7/9/2020)

vtx perfeita

Review by

José Segura

vtx perfeita bem construida otimo produto
(Posted on 6/19/2020)

fx2 dominator vtx

Review by

Jose Young

awesome vtx with some crazy power!
(Posted on 6/16/2020)

Best 2000mW VTX

Review by

Philip King

Best FPV VTX I have used to date. The range is the best I've tested. Easy to use, built in mic. Can't say enough good things about this 2000mW VTX
Thanks AKK (Posted on 6/15/2020)

Powerful

Review by

Best vtx

2w of transmitting power! Clear video and super long range. Pretty darn good for the price. My go to! Never had issues and always strong! (Posted on 6/15/2020)

Good

Review by

Bill Carter

Good fpv vtx for long range !!! (Posted on 6/13/2020)

Beast vtx

Review by

Mike Killy

Really an awesome vtx.With the range of output wattage, this vtx signal is strong and clean. Perfect for longer range freestyle. What else can you say?
This vtx is a beast!!! (Posted on 6/6/2020)

Bon vtx

Review by

Evan Gadras

Bon vtx, j'ai très peu de glitch comparé à celui que j'avais avant.
(Posted on 5/26/2020)

Just enjoy

Review by

Martin Sadeghi

I have both x2 and this 2000mW vtx. I know x2 is a great vtx, but if you don't try this one you may never know the secret of 2000mW!!! (Posted on 5/22/2020)

Really a great VTX

Review by

Nathan Smith

I've always had good results with the 2000mw VTX. Reliable, easy to set up and manage, cheap, but it just gets hot sometimes...
(Posted on 5/8/2020)

Ottima VTX

Review by

Lorenzo Bracco


Ottima VTX se la trovate in offerta. Fino a 2000mW. (Posted on 3/25/2020)

So much range!!!

Review by

Jeff

If you can fit it inside your long range quad (its at least double stack alone with those heat sinks) get it. That 2000mw just gives you so much confidence, first VTX I've found that can out-range my 2200mah battery.

Only thing you have to be careful of is getting it off the ground real fast, even at 250mw it gets warm quickly. At 2000mw, its burning hot in seconds. Once you get airflow over those heatsinks it cools right down though, barely warm to the touch after flying for 5-10min. (Posted on 3/11/2019)
Videos
You may also be interested in the following product(s)