Details
Details
AIO FPV camera+transmitter+brass dipole antenna all 3 functions in one limit size and weight. weight:3.5g

A Ready to fly Micro AIO Camera Combo, easy to install, can connect to osd via Video in/Video out cable.

Requires 1S LiPo battery, Signal Range Suitable for Ultra Micro RC Aircraft. Compatible with 5.8GHz googles and monitor.

Upgraded low-light condition for flying in dimmer light. Designed for all ranges of flying both indoor or outdoor.

48 channel with raceband, good quality image with zero latency, Button control instead of switches to change channels.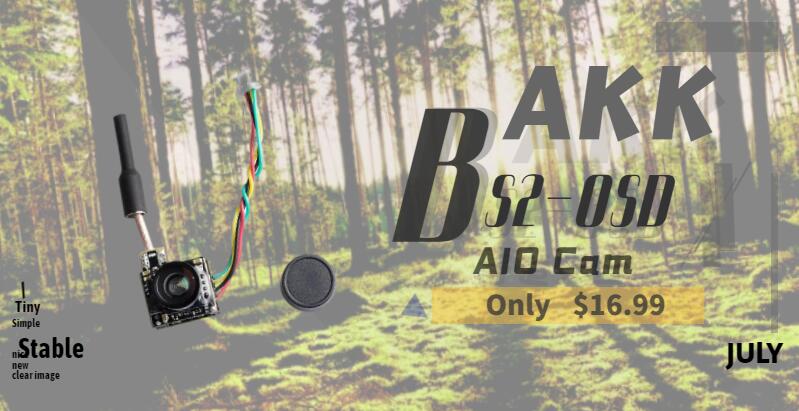 Specification and Parameters:
Output power:25mW
Frequency:48CH
Input voltage: 3.3V-5.5V
Current consumption:300mA(type)
Camera resolution: 600TVL
Field of view: 120°
Video Format:NTSC
Antenna: Dipole Antenna
Frequency: 5.8GHz 6 bands 48 channels
with Raceband: 5474-5945 MHZ
Size:13.9*12.0mm(L*W)
Weight:2.6g (without antenna and cable)
Package Included:
1 x AKK BS2-OSD
1 x Manual
Two groups of LEDs:
Group 1: 6 BLUE LED stand for bands.
Group 2: 8 RED LED stand for channels.
Blue LED1 and Red LED1 light on, indicating frequency
5865MHZ (BAND1 and CH1)
Blue LED1 and Red LED2 light on, indicating frequency
5845MHZ (BAND1 and CH2)
Blue LED6 and Red LED8 light on, indicating frequency
5600MHZ (BAND6 and CH8)
Notice:
Please wiring the Video in to the Video out if you don't use the OSD feature.
Reviews
Customer Reviews (4)
Great camera,great in low light

Review by

Michael Aikin

Great image and convenient board control. Most importantly, it performs well in the night. Already purchased another. (Posted on 7/1/2020)

Almost perfect for a Tiny Whoop

Review by

Ryan Costa

Great Price, very small, great colors, all in one unit cam&trasns.
(Posted on 6/13/2020)

very nice

Review by

Sam

Light handling on this little cmos camera is pretty good. The unit is very compact and worked flawlessly. (Posted on 4/8/2018)

Best Cam&Vtx AIO for a beecore flightcontroller with OSD

Review by

S.

I use this camera on a EO11 quad and whoov flashed with Silverware. And I also use it on a indoor wing. The BS2 is one of the best micro/nano Cam&Vtx AIO I have and just ordered an other one.

It can withstand quite some crashes so the BS2 is very sturdy. I ordered also some spare antennas with it but haven't used any of it. It's soldered very nice on the VTX.

I mainly flew the EO11 with the BS2 indoor so I can't say much about the switching time from dark to light conditions with sunlight. I flew a couple of times from dark to light rooms and vice versa and I noticed the it switched quickly enough.

But most importantly the VTX is very nice. I got very good reception and the channel frequencies are accurate as far as I can judge it with my VRD2 and FS Transformer goggles.

All in all a very nice AIO for a brushed micro quad or micro indoor wing. The BS2 is a must have for every FPV micro aircraft!

I am busy designing a 3D printable mount for the BS2 on a Whoop based quad. Link for the STL file will be available for free soon. (Posted on 3/8/2018)
Videos