AKK-to Create and to Hold
By Susan | September 13, 2017
It is the best of times to get into "FPV RC"!
You can step out the house into your yard and fly your FPV kit whenever you have a desire to go flying.
AKK, which Mr Trier and a handful of collaborators started several years ago, spotted a confluence of technologies and market opportunities, is now standing at the intersection of worldwide newfound cults of FPV addictions.
What is FPV?
Simply put, FPV refers to First-person view , or remote-person view (RPV), or simply video piloting, is a method used to control a radio-controlled vehicle from the driver or pilot's view point.
FPV RC requires several basic components:
RC FPV Aircraft+FPV Camera+FPV Video Transmitter+FPV Antenna+ Headset
AKK FPV systems and components:
Featured products:
AKK A3 AIO Micro FPV Cam with 0/25mW/50mW/200mW Switchable
AIO FPV camera+transmitter+antenna all 3 functions in one limit size and weight. weight:4.7g
Output power 25mW/50mW/200mW Switchable, Compatible with 5.8GHz googles and monitor.
120 ° FOV horizontal viewing angle of 150 ° DFOV diagonal perspective. Vertical inverted image switch and horizontal mirror image switch.
Nickel-plated 4 Leaf Antenna , RHCP circular polarization clover to Antirust and get strong signal.Installs in seconds.
Requires 1S LiPo battery, Signal Range Suitable for Ultra Micro RC Aircraft. Support TX RF output power enable/disable output enable/disable.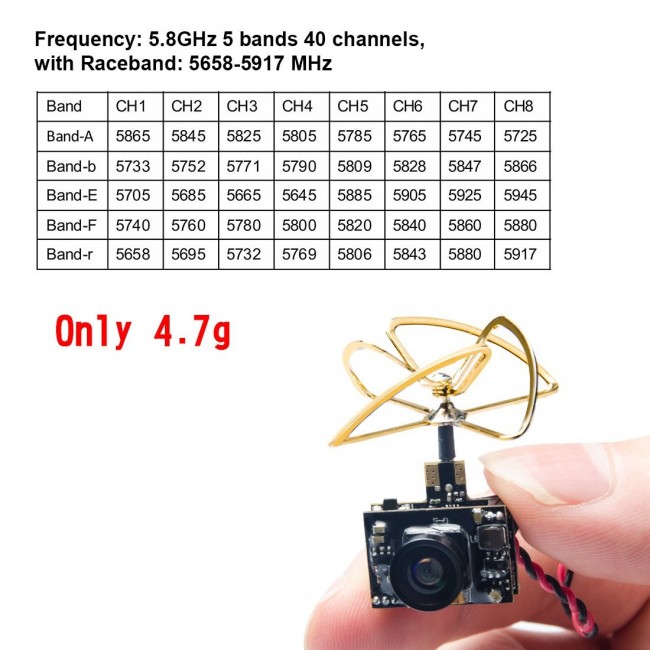 AKK BS2 Cmos AIO FPV Camera for Drone Like Tiny Whoop Blade
A Ready to fly Micro AIO Camera Combo
Super light weight, only 3.5g, dipole antenna for better signal transmission, easy to install.
8LED display channel and 6LED display frequency group information.
The go to camera for the Tiny Whoop racing. Combined with the Inductrix for perfect FPV addition.
48 channel with raceband, good quality image with zero latency, Button control instead of switches to change channels
AKK A5 FPV AIO camera with vtx separate
Easy to install, plug and play, power by 1S LiPo battery
Video out cable can be connect to OSD
Super light weight: 4.5g, VTX Size: 19*14mm(L*W), Camera Size: 14*14mm(L*W)
Button control instead of switches to change channels,120°view angle camera, good quality image with zero latency.
Suitable for Ultra Micro RC FPV Quadcopter and Fiber Frame Kit, designed for all ranges of flying both indoor or outdoor.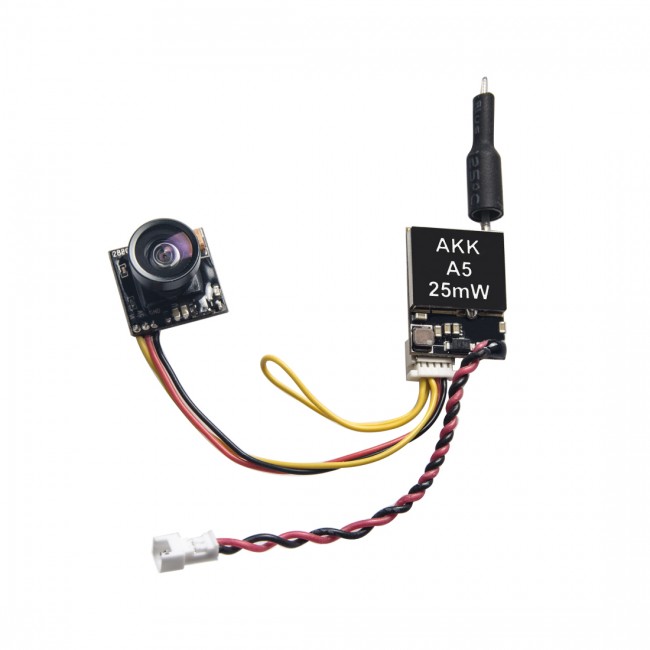 Featured products:
AKK X1P FPV AV Transmitter with Pigtail
Long transmission distance and stable performace
One switching button to set CH, FR and power
Antenna connector: SMA male
25mW/200mW/600mW Switchable FPV Transmitter with Pigtail
40 channels: cover A,b,E,F,r bands and all frequencies compatible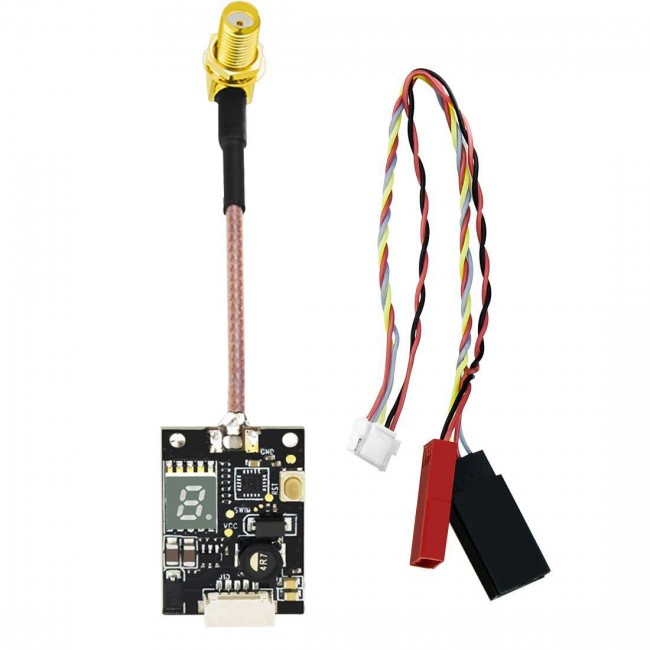 AKK X2 Switchable FPV Transmitter with Push Button and Digital
DisplaySupport Debug Mode
25mW, 200mW, 500mW and 800mW power switchable
One button frequency and power setup
OSD configuration using FC UART
7-24V input with 5V output
With MIC
Featured products:
AKK CA20 Sony CCD Camera with OSD for FPV Multicopter
600TVL high picture quality Mirror function
Low Power Consumption and Low illumination
1/3" SONY SUPER HAD II CCD,Nextchip 2040 DSP
Special connecting cable for camera and FPV transmitter
Low power consumption and supper light, extremely suitable for mini quadcopter.
Featured products:
AKK ML2 LHCP TX/RX 1pc SMA Male 1pc RP-SMA Male Mini Circular Polarized FPV Mushroom Antenna
Product Type:Mushroom antenna
Frequency Range:5.8GHz
Impedance:50Ω
VSWR:<1.5:1
Gain:5dBI
Polarization:Circular polarization (LHCP)
Levorotatory
Max Power:50W
Height:42±3mm
Max diameter:35mm
Min diameter:35mm
Connector:SMA
Connector:RP-SMA
Lighting Protection:DC Grounded
AKK bring forth new ideas:
Today one could find anything in the world online, and fpv equipments are no exception, building your own customized FPV sets enable you to learn more knowledge and technologies, and AKK are working on list the high cost performance FPV kits, New models are released at all times because of the technology improvements.
Quality is the first priority:
One thing we hold on to is quality first, nobody likes searching from a sea of online kits that are easy to be scrapped for one crash. In the recent years round, our R&D team perserved their research until they make improvements on quality test, Strictly quality control of each product during the production and final testing before delivery to customers, all of these reflected the meaning of ingenuity for flight that we insist.