Details
Details
Product Description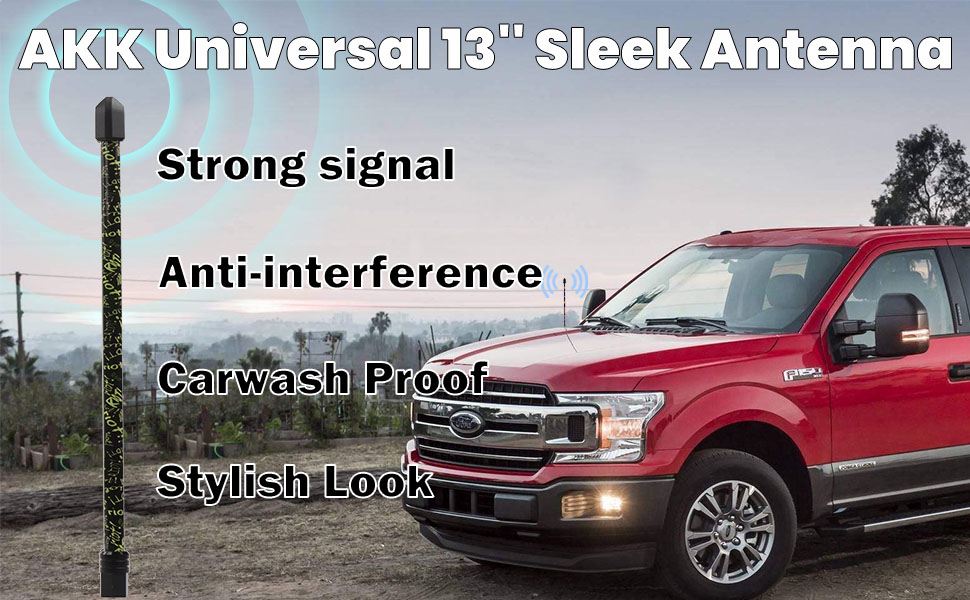 Are you looking for a short antenna with cool looking and great reception? Here it is !
AKK stubby antenna was made with highly conductive Internal copper coil and wrap by fiberglass. It is an universal antenna compatible with ALL PICKUP, including Ford F Series F150 F250 F350 F450/Chevy Silverado/GMC Sierra/ Dodge Ram 1500 2500 3500 /Jeep Wrangler/ Toyota Tundra.

Multi-function
The car antenna comes with 9 screws and 3 aluminum alloy adapters. Perfect for long term use. The antenna adapter is made of aluminum, which performs better in strength than plastic.
Excellent Reception
The car antenna was made with copper coil. which is more conductive than other metal, so it can enhance the signal and reduce the noise in poor reception area.Delivers superb and stable AM/FM signal reception even better than your original antenna
Car Wash Proof
It is sturdy and strong. The external is made of fiberglass, which ensures its durability, anti-scratch. There is no need to remove the antenna mast every time when automatic car washes or manual car wash.
Package list:
1 x Antenna
9 x Different Size Screws ;
3 x Aluminum Alloy adapters
Reviews